Mentor Engagement During a Global Pandemic
Everything is different. Unnatural. Unreal.
As the months have dragged on during the COVID-19 pandemic, the demands pulling on our mentors' time and attention have shifted. Concerns about school, family, work, mental health as well as physical, have diverted the attention of many of our mentors away from FIRST and their teams. FIRST Robotics is still here, and as the January 2021 Kickoff date approaches, FRC mentors are asking themselves: how can we bring an authentic STEM experience to our students under these strangest of circumstances? 
This  is how a couple Hall of Fame teams are facing the challenges, and what we're doing to get and keep our mentors engaged. Because when our mentors lean in, our students lean in. See if our challenges, and the way we've overcome them, resonate with you and your teams.
The Green Machine Team 1816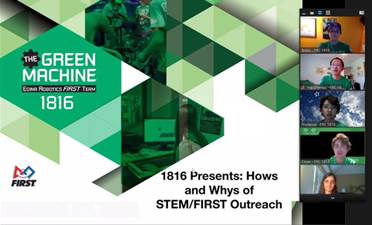 Engagement on the part of both student team members and mentors has been tenuous throughout these many months of the pandemic. To keep the team cohesive, "The Green Machine" has had to create many different versions of what it means to be a FIRST Robotics Competition team. We have had to reinvent how to best reach 31 students and almost as many mentors during stay-at-home restrictions, distance learning, and no school / workshop access.  There was a period of about 8 weeks when we could hold limited, in-person meetings during hybrid learning situations, but recently have had to pivot again to full distance learning and no access to our high school-based workshop (and the robot)!
Zoom Interrupted.
The team has leaned heavily on the four "lead" mentors, who in turn have pulled additional veteran mentors into regularly scheduled Zoom meetings with student leaders. The living room and home office meetings have provided many "Joy of Life" opportunities as meetings are interrupted by family members and our assorted menagerie of pets. Topics have ranged from pit design to team safety protocols to rewriting the team business plan.  Having regularly scheduled meetings has allowed us to "check in" on each other, keeping tabs on how we personally are dealing with the longer-than-anticipated inability to meet as a team in real life.
Remote support.
We have seen mentor engagement track both up and down, depending on the demands mentors have on their time by family and work. There is additional mental fatigue from the online demands of many professional positions, and some mentors have had to take a leave of absence to take much needed time away from the team and FIRST. For the mentors that were the primary, hands-on technical mentors in the workshop, many have decided to be on-call to the team. They cannot be on-site, but they can be on-line as needed.
Frictionless Communications.
Recognizing that mentors may be unable to join specific meetings on a regular basis, Team 1816 has relied on regular weekly updates via a Sunday email blast, as well as postings in the team Slack throughout the week. There has been a considerable uptick in messaging via Slack, which is helping keep everyone connected and "in the know."
Added Interest.
For team meetings, bringing in guest speakers on topics of interest to both mentors and students has been quite popular and boosted attendance.  We have been able to go beyond the traditional in-person guest visits and Zoom to speakers from the entire FIRST community.  It's been fun to talk to and learn from teams with best practices in a number of different disciplines.
Bonus.
By granting permission to take needed time away, Team 1816 mentors have responded promptly when asked to be on-site, in the limited groupings that were allowed.   Also, mentors have indicated more readiness to be online with the team from Kickoff through the remote competition season.
X-Cats Team 191
The Rochester City School District in Rochester, NY, went 100% virtual in September. In order to have a team at all, we are required to keep our club 100% virtual. 
So, now our mentors are asking:
What do we do with this kit of parts?

How do we participate?

What does it mean to be an X-Cat this year? 
Really what our mentors are looking for is that forcing function. In the words of second-year X-Cat mentor,
Shauna Orman
: "What I need is accountability." The Xerox software developer, working from home, is finding all her spare moments filled up with work. Shauna is not alone – many of our mentors are faced with outsized workloads. What Shauna needs is to get students aligned to a project in order to start carving out time for
FIRST
robotics. 
 Our teachers are overwhelmed as well, juggling a new set of priorities, figuring out how to apply unfamiliar technology to their lesson plans, and helping students through the socio-emotional tumble, all while managing the pressures of their own young children and grandchildren, aging parents, and any other personal life challenges resulting from this global pandemic. Karen Reyes, teacher-mentor, while sorting out her own instructional needs, is also supporting her peers in applying tools and technology to stand up their virtual classrooms. 
So, how do we come together and engage as mentors? 
Well, we start by working through the challenges faced by our team members in these strange and difficult times. Every challenge is an opportunity, a forcing function to bring mentors together for our students.
Getting serious.
COVID is hitting our black and brown families disproportionally, health-wise and economically. Our response? We pulled together a food basket giveaway, to support our students and their families impacted by the pandemic. We took up a collection, and mentor Kay Jennings, who had self-quarantined for weeks, got out there – shopping and distributing baskets to students all over town. To meet the greater need. The students were thrilled – this was a genuine bright spot in their days, not only because of the basket of goodies, but also having the little tie-dyed parade show up at their door.
 Getting real.
As the national news cycle played out, our urban teammates were hit in the gut on the racial equality front times two. We first checked in with our students when the protests around George Floyd erupted in our city. We fired up the phone tree and checked in with all our students, making sure they were thoughtful and safe while participating in protests. Then when the Daniel Prude video was released, the effect on the team was profound. 
With an eye on assuring all voices could be heard in a safe and meaningful way, our teacher mentor Jackie Timothy architected a virtual peace circle, giving students, mentors, and alums an opportunity to voice their thoughts and feelings. The discussion was heartfelt and emotionally cleansing. And the virtual format allowed us to connect with mentors from all over the country. Double bonus.
 Getting inspired.
As it happens, long-time mentor Duane Jennings, watching the news, realized the lawyer representing Daniel Prude's family is an X-Cat alum! So, Duane promptly reached out to Elliot Shields and invited him to talk to the team. Elliot brought a candid perspective on the local situation and stressed to our students how he's applying what he learned as an X-Cat to real life. In FIRST, you learn how to tackle a seemingly insurmountable problem, whether it's building a robot or addressing structural racism. Break down the problem. Organize into teams, oversee one another's output, collect the pieces into a synchronized effort in order to meet hard, fast deadlines. Oh, and by the way, Elliot's law firm is working with Dean Kamen on a prosthetic for one of their clients!
Getting busy.
As we approach kick-off, it's time to get our game on. Our lead engineer, Carlos Terrero, warmed up the team by brainstorming game challenge themes. Shauna, Vicki Robertson and Bill Enderle are engaging with FIRST community resources resources FIRST @ home launching a Rube Goldberg challenge, tapping into WPI's FIRST Game Jam (asynchronously) as well as the Amazon Cyber Robotics challenge. 
And we're spinning up technology that will work to our advantage in a virtual mode. Like OnShape for CAD, which will work with student's Chromebook. Like breakout rooms with Zoom, which will allow us to split up the team into smaller, more manageable virtual work groups. Like using GitLab to better control our source code, in order to develop software with a distributed, virtual team. 
Getting connected.
In the end, it's all about communication. Put succinctly by our team leader, DaTwan Dixon:
"We are all suffering from what seems to be a technological overload.  The best way to keep mentors engaged may be the highly effective low-tech approach that has worked for years: a phone call.  At the end of the day, I find that this is the best way to show each mentor/teacher that they are appreciated, needed, and ready to move the team forward."
SO TEAMS: how are you getting connected? 
We, as the Hall of Fame community, are garnering support amongst our peers. Even just connecting monthly to check in on how other teams are managing is both comforting and inspirational.
We hope you're doing the same among your own FIRST communities. If not, we encourage you to build a supportive FIRST community and we welcome you to reach out to include ours. 
If you have your own thoughts on mentor engagement, or are looking for advice, thoughts, or inspiration from us, feel free to reach out to us. We're all in this together.
LAURIE SHIMIZU
Team 1816 Communications Mentor
Laurie Shimizu does her best to keep us connected by any communications pathway necessary. She has been known to surprise
Green Machine
team members (and the occasional volunteer) with a middle of the night "urgent text." She's a Woodie Flowers Finalist (2017 Minnesota 10,000 Lakes Regional); a
FIRST
Senior Mentor, and Chief Volunteer Coordinator for FRC, concentrating on volunteers and mentor support. She was awarded the national
FIRST
Robotics Competition Volunteer of the Year in May 2020.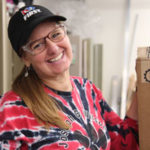 JAN ENDERLE
Team 191 Co-Lead Mentor and Mechanical Engineer
Jan has been an X-Cat since 1994; she and her husband, Bill took a hiatus when they started their family. Rejoining the team when her daughter and son came of age, Jan now co-leads the X-Cats with DaTwan Dixon, runs a mechanical sub-team, and keeps the finances and fundraising on track. One might suggest the blood in the Enderle family runs tie-dye.
Have questions?  Reach out to us at FIRSTHallofFame@gmail.com