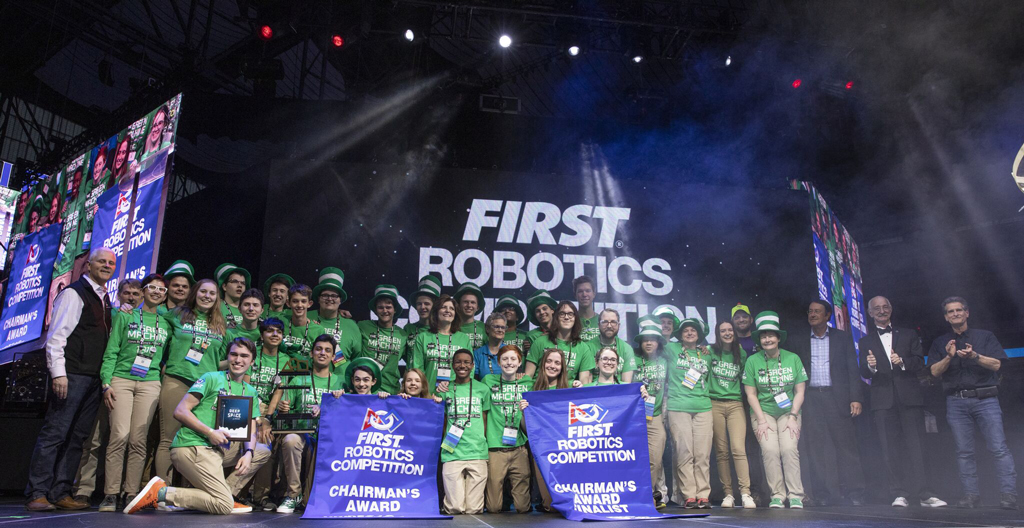 Team 1816: "The Green Machine"
 "The Green Machine" Team 1816, from the city of Edina, the greater Twin Cities area and the state of Minnesota is proud to have won the World Championship Chairman's Award in 2019 at the Detroit, MI, competition.
We are sharing some of our resources that we developed as we were working towards this award. Please feel free to contact us if you should have any questions about anything related to the Chairman's Award.
WHY STEM OUTREACH?
STEM Outreach is to Inspire! Whether it's introducing FIRST programs to new audiences, mentoring other teams engaged in the full-range of FIRST programs, bringing robots to potential sponsors, or running robot demonstrations to the community-at-large, year-round STEM Outreach is a vital component of The Green Machine. As a team, we are often asked "why do STEM outreach?" and "What's in it for you?" We've put together some of our thoughts and processes in a presentation about STEM Outreach: Link to PDF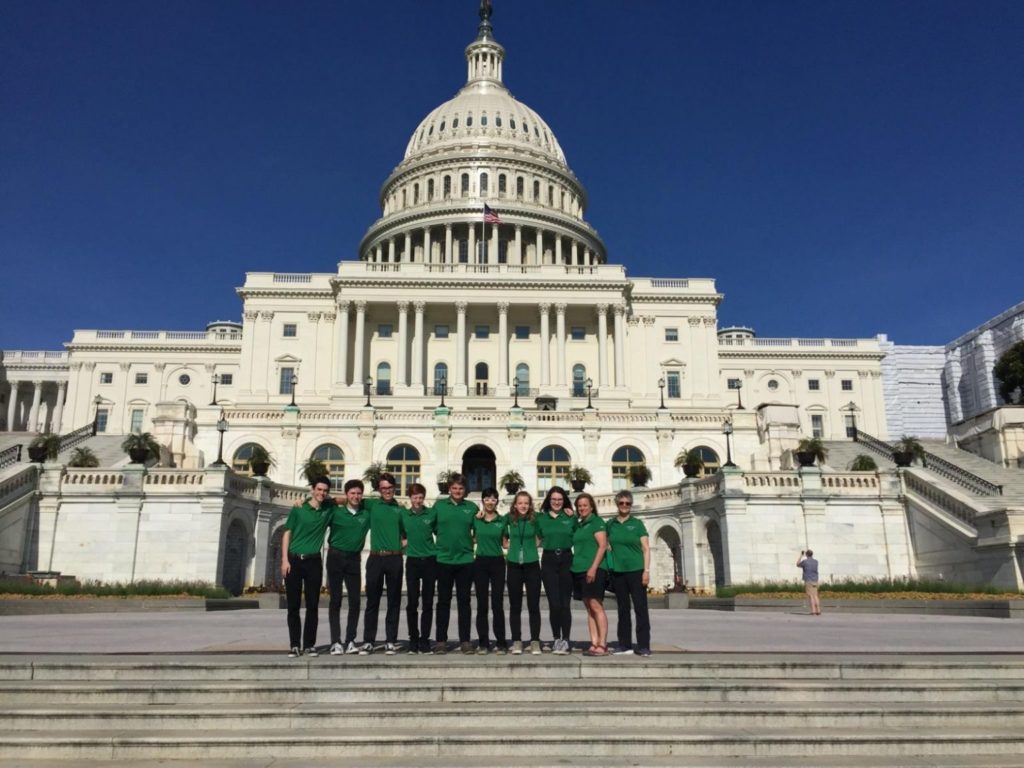 ADVOCACY
STEM Advocacy aims to change the landscape on which we play and make it truly financially sustainable.
In June 2013, we discovered the power of students advocating about FIRST and STEM to our elected officials in Washington, DC. Through what has become the FIRST National Advocacy Conference, we have been successful, year after year, in putting Team 1816 students before our Minnesota Congressional delegation. There is no substitute for having engaged students speak passionately about the program that impacts them greatly. We have brought the impact of FIRST programs to the attention of White House officials, including the Office of Science and Technology Policy and the Secretary of Education. We have been successful in adding language to the ESSA that released Title IV, part A grant support for after-school mentored STEM activities, including FIRST, as well as language in the 2019 reauthorization of the Perkins Career and Technical Actto better provide students with technical training and workforce skills.
In 2016, we launched the Minnesota version of a STEM Advocacy Conference, bringing in speakers and teaching teams how to connect with their local elected officials. We have annually filled the rotunda in the Minnesota State Capitol with robots from all levels of FIRST programs. In 2019, we secured a $100,000 grant via the Minnesota Department of Employment and Economic Development to establish five Competitive Robotics Hubs throughout the state. 
CORE VALUES
FIRST Robotics is "More than Robots," and more than "win at all costs" competitions. Core Values have always been at the foundation of Team 1816. Core Values started with a peer-to-peer program, "Be FIRST, that sought out and recognized teams that were going above-and-beyond in their own efforts to put the FIRST ideals of Gracious Professionalism and Coopertition at center stage. The Green Machine formalized our Core Values in 2018 to cement the high value on the ethical underpinnings of what it means to be a FIRST Robotics team. Facilitated workshops, led by a Team 1816 mentor, pushed us to examine how we wanted to operate as a team, and inspired us to "redefine what greatness means. Learn more about Core Values here.
The Allaire Medal –
Leadership Exemplified
The Allaire Medal recognizes leadership exemplified, 1816 awarded this medal to 2 students who have demonstrated outstanding leadership and whose personal character best embodies the spirit of FIRST.
2019
Detroit Championship
Chairman's Award Winner
2018-19 Sponsors
The Dow Chemical Co.
Medtronic
Graco
Microsoft
Seagate
PTC
HID Global
Ronin Media Productions
Cargill Inc.
Velox
CNC
Edina Education Fund
Jerry's do-it Best Hardware
TJ's Restaurant
Calvary Lutheran Church
Green Machine Boosters
Edina Senior High