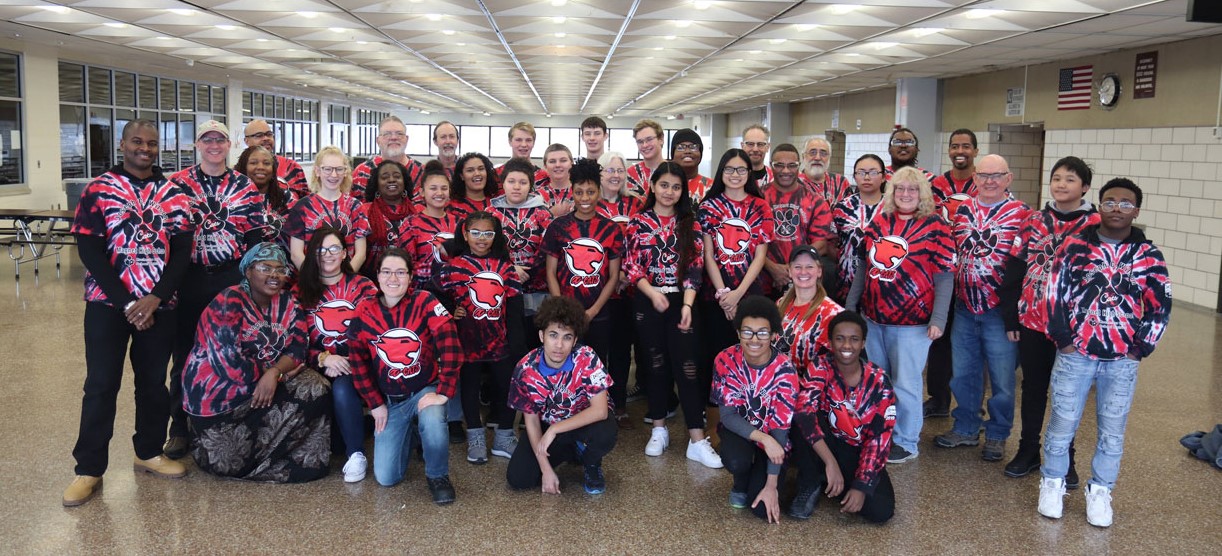 X-Cats Team 191 from Rochester, New York won the Chairman's Award at the 1992 and 1994
FIRST
Championships. The X-Cats are a founding FRC team, and has been operating contiguously since that very first competition in Nashua, New Hampshire: Maize Craze. The X-Cats pride ourselves in operating with an inner-city high school, serving students coming from a diverse range of ethnic, racial and economic backgrounds. We are the first recipients of the Chairman's Award, and the only two-time winner of this coveted award.
X-Cats then:
X-Cats Chairman's Award Video – 1992

At 10:33 in the video, there is video of the Presentation of the first Chairman's Award, followed by Dean talking about why the Chairman's was presented to Xerox.
Transcript of Dean's comments:
"Shortly after we gave the kits out, we started to get concerned that we might lose the real goal here as some of the competitors got so much into the competition that the goal was to win and we said the goal is to get as many kids involved as we could. So we quickly went out and called every company that was participating and reminded them that the most important prize coming from this competition wouldn't be the trophy for the one that achieved the most points, it would be the Chairman's Award. We decided that Xerox had gone the extra mile to do this. And it was in large part due to the fact that they had demonstrated (a) that they didn't go to the small private school that is most likely to participate and win and the least likely to need this kind of activity or role models. They also demonstrated that their goal throughout wasn't just to show these kids engineering, it was to show them sportsmanship. It was to show them team participation. It was to show them that you can have fun doing good job. The participation among the engineers and the students, it was outstanding."
X-Cats now:
---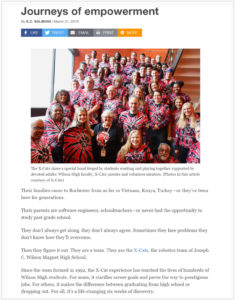 Rochester Beacon article about the X-Cats
Journeys of empowerment, March 21, 2019
The X-Cats, the robotics team of Joseph C. Wilson Magnet High School, has touched the lives of hundreds of Wilson High students. For some, it clarifies career goals and paves the way to prestigious jobs. For others, it makes the difference between graduating from high school or dropping out.
---
X-Cats featured at the 2019 FIRST Championship Detroit Showcase Presentation by then FIRST president Don Bossi.
Transcript of Don's Comments: 
"Our sponsors enable the FIRST family, creating the special bond created by students and adults, working and playing together. It turns out that what it takes to make a robot is often what it takes to empower a human being. Throughout each of our FIRST programs, FIRST teams get hand-on experience with modern engineering, equipment and technology. But they also take on public speaking. Leadership. Problem solving and collaboration challenges that build workforce skills and confidence. Thanks to all of you, FIRST is providing a transformative experience for our young people across all population groups…As I travel for FIRST, I'm inspired as I witness the results in person. For example, the X-Cats, a FIRST robotics competition team in Rochester, NY. A team that has been with us since the beginning of FIRST with a graduation rate of near 100% as compared with 54% for Rochester City School District as a whole. I thing that's pretty impressive. For some X-Cats, FIRST clarifies career goals and pave the way to prestigious jobs. For others it makes the difference between dropping out or graduating from high school. The students don't always get along. Sometimes they face challenges they struggle to overcome. But they figure it out. Year after year. They're a team. Or as they tell us, It's like a family."
A couple months ago, Dean Kamen told us about why he appreciates Xerox as a sponsor of the X-Cats:
"Xerox is a Founding Sponsor of FIRST.  I don't think it's an accident that a company with the foresight to help start something like FIRST 30 years ago is one of the few technology companies to still be a household name now.  Especially due to the engagement of Xerox and Xerox employees with FIRST, I'm more optimistic than ever about our ability to work together to make a better world enabled by technology."  – Dean Kamen, Founder FIRST and President DEKA Research & Development Corporation.
1992
1994
Championship Chairman's
Award Winner
2018-19 Sponsors
Xerox Corporation
Sikorsky – A Lockheed Martin Company

ESL Federal Credit Union