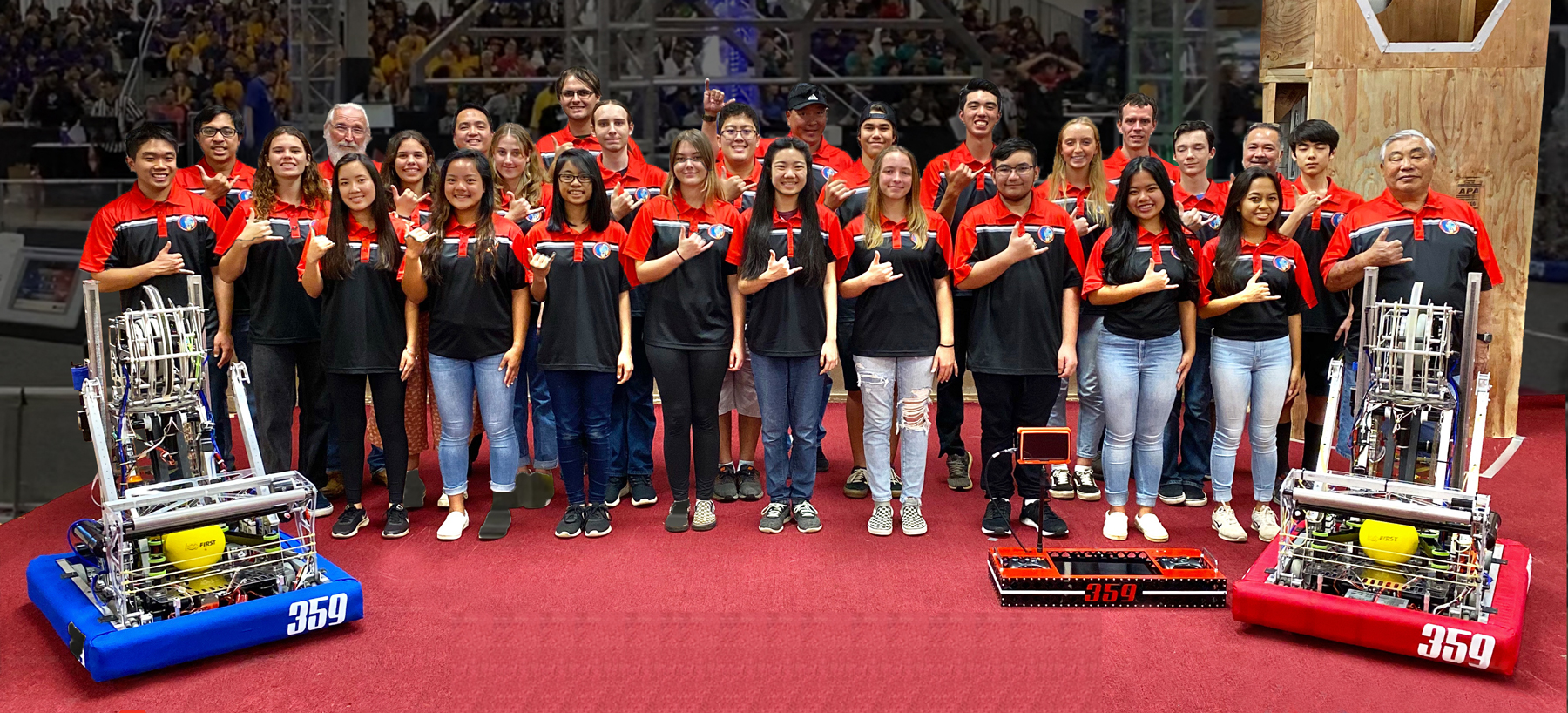 Hawaiian Kids Team 359 from Waialua, Hawaii won the Chairman's Award at the 2011 FIRST Championship.
Team History and Summary
The Waialua Robotics Program aims to spread the message of STEM with a global vision, impacting as many students, the school, and members of our rural, isolated community with little to no resources. In addition to participation in local community events, utilization of media, and collaboration with our Hawaii State Government and other local robotics teams, our program has led the way to transform the culture of our rural community by preparing students to succeed in higher education.
Our program concentrates on integrating various STEM-related and non-related programs in our school, community, and State. For example, our program has sparked the growth of students majoring in the Arts and Communication (A&C) Career Pathways. Through STEM and Robotics, students can incorporate Animation, Graphics, and Public Speaking as examples of integrating these Career Pathways via Robotics, Engineering, and Technology coursework. Furthermore, our successes in sustainability has allowed us to extend our resources to these other (A&C) fields and STEM-related programs to our neighboring feeder elementary and middle schools, and establish a scholarship program that will assist 100% of our eligible graduating members in their post-secondary education. The long-term goal has been to provide a sustainable program and curriculum from K-12.
Robotics has been integrated into both our middle and high school curriculums as part of a Career Technical Education (CTE)-Industrial, Technology, and Engineering (ITE) Career pathway, our Robotics STEM Learning Center and with the support of the Hawaii Afterschool Alliance. Through the Alliance, we receive grant support from REACH, UPLINK, and the 21st CCLC program. The programs of study give students the flexibility to choose specific subjects of interest such as Design, Graphics Technology, Digital Media, Electronics, and Building/Construction. Students are encouraged to become "completers" where they all must have at least 2 courses in a program of study, one of which is an ITE or A&C core class. At the same time, our team has served as "consultants" to the State in correlating funding with our CTE curriculum. The more completers your school has, the more funding you are eligible to receive above and beyond the regular school budget. Other key requirements include passing other courses that are part of our programs of studies in different but related subject areas such as Expository Writing, Algebra II, Physics, and passing the Hawaii State Assessment (HSA) exam in reading and math.
In addition, our program has also established a College and Career component, based on a recent needs assessment that our students need in pursuing post-secondary opportunities. This includes having quarterly parent nights to assist with financial aid, applying for universities, and bringing in guest speakers on topics on workplace readiness to representatives of Universities/Colleges.
As the first organized robotics team in the State of Hawaii, we have also sparked the growth of 6 different robotics-related programs through our direct mentoring, workshops, and support of other teams, including acquiring nearly $9 million in funding for robotics in the state throughout our history. As a result, nearly 1/3 of the state's K-12 schools now have a robotics program as part of their curriculum totaling over 750+ teams.
The Allaire Medal – Leadership Exemplified
The Allaire Medal recognizes leadership exemplified, 359 awarded this medal to the student who demonstrated outstanding leadership and whose personal character best embodies the spirit of FIRST.
2011
Championship Chairman's
Award Winner