Simbotics Team 1114 from St Catharines, Ontario, Canada won the Chairman's Award at the 2012
FIRST
Championship.
At the time of their submission, they started 12 FRC teams and 47 FLL teams. Each student on the team worked side by side with a mentor to better their skills. The team focused on strong mentorship and dedication to the task at hand.In addition to the teams they mentored, Team 1114 worked hard to better FRC teams with whom they had no relation, thus encouraging FIRST's message.
KITBOT ON STEROIDS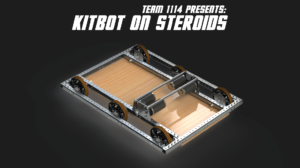 The Kitbot on Steroids was designed by Team 1114 to provide a simple and inexpensive drivetrain for teams to use that is both robust and highly effective. Over the years, many teams have used this style of drivetrain with amazing successes, including numerous regional winners. The best part of this drivetrain is that it's very simple to assemble, allowing you to spend more of your build season working on mechanism design, programming, and practice. Also, it's simplicity and robust nature ensures this drivetrain will keep running all season long with a minimal amount of maintenance. One of the new resources in the Textbook for Success is our presentation on drivetrain design. This presentation explains many of the key principles of drivetrain design while highlighting the reasons that The Kitbot on Steroids is strategically correct for most teams.
SIMBOT SEMINAR SERIES
This fall, Team 1114 hosted a series of weekly online seminars on a variety of topics relating to the FIRST Robotics Competition. These seminars were broadcasted via Google Hangouts and archived on the team's YouTube channel.
The Allaire Medal –
Leadership Exemplified
The Allaire Medal recognizes leadership exemplified, 1114 awarded this medal to 2 students who have demonstrated outstanding leadership and whose personal character best embodies the spirit of FIRST.
2012
Championship Chairman's
Award Winner