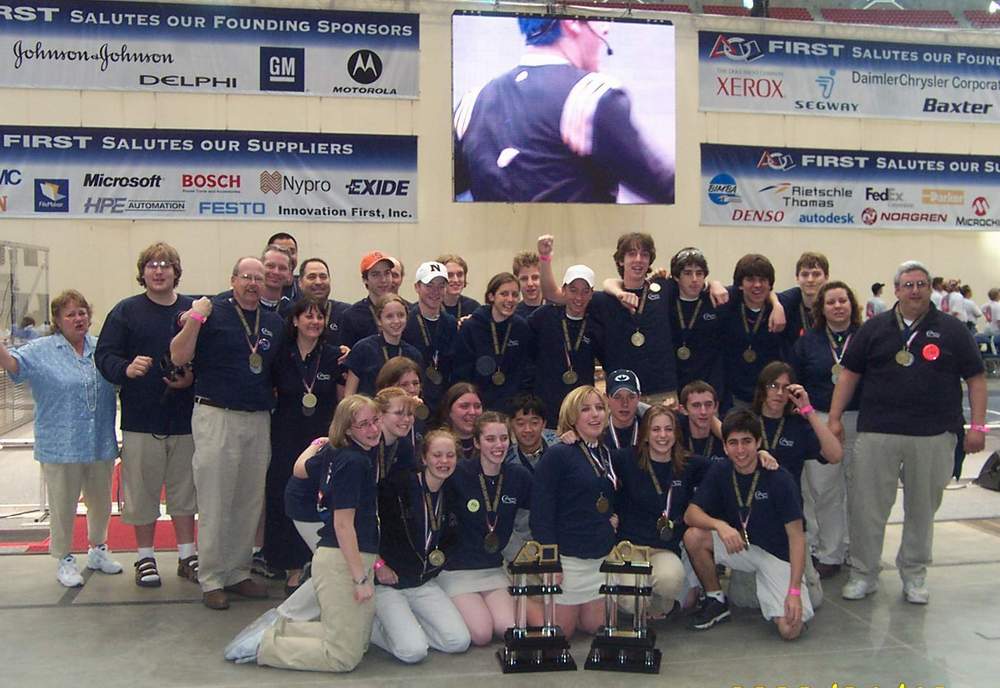 Cybersonics Team 103 from Kintnersville, Pennsylvania won the Chairman's Award at the 2003
FIRST
Championship.
They were granted the award for their outreach efforts within their community, and their efforts in spreading the FIRST's message. The team created a website called Beyond FIRST, which was targeted at students and sponsors within the FIRST community.
Regarding their outreach efforts, Team 103 helped to connect rural teams to the FIRST community in several ways.
FIRST® INTERACTIVE RURAL SUPPORT TEAM NETWORK
FIRST Interactive Rural Support Team Network was established as a service to the FIRST community in order to support, maintain, strengthen, and begin FIRST Robotics teams across rural America.  Initiated by Cybersonics Technology Team 103, this network helps rural teams to overcome obstacles such as distance from potential corporate sponsors, and to increase community support, involvement and awareness. Over 150 teams from more than 30 states and 4 foreign nations have been supported by FIRST Interactive Rural Support Team Network and may also serve as mentors, mentees, and supporting services. Countless others have been aided by the teams involved. If your team needs help, contact Cybersonics Technology Team.
SERVICES PROVIDED
SOLICITING SPONSORS
TEAM BUILDING
TEAM ORGANIZATION
TRAVEL
WEB DESIGN
WELDING
USE OF PLAYING FIELD
USE OF MACHINE SHOP
3D SOLID MODELING
COMMUNITY INVOLVEMENT
CREATING PRESENTATIONS
GRAPHIC DESIGN
FUNDRAISING
MACHINING
PUBLIC RELATIONS AND PUBLICITY
STEAM EDUCATION WORKSHOPS
2003
Championship Chairman's
Award Winner